Topics :: Pride
The 10th annual Women's Pride in the Pines was held at Whyte Hall featuring a dance party with DJ Susan Levine, a buffet dinner, entertainment from comedian Jessica Kirson, and Jan Sport from RuPaul's Drag Race.
Aurora, Illinois revamped their second Pride celebration with a drive around concept to local businesses and homes, plus a rainbow festival in Water Street Square.
The crowds who attended Key West Pride enjoyed a great time sailing and partying at Tea on the Sea, soaking up some sun at Bourbon Street Pub's pool party, and attending the Pride Follies presented by the Key West Business Guild.
Key West celebrated this year's Pride season with a Kick Off party at Island House, the Are You Wet Yet pool party at Alexander's Guest House, and a Tea Dance at La Te Da's. Check out all the fun.
SF Pride may have been canceled but community leaders Juanita Moore! and Alex U. Inn planned a march along the original Pride route followed by a rally and a second march to the Castro to show support for the black and brown members of the LGBTQ Community
The NYC Queer Liberation March for Black Lives and Against Police Brutality, took place on the last Sunday in June traveling from Foley Square to Washington Square Park.
Pride Without Prejudice/Reclaim Pride March kicked off at the Belmont Red Line el station in Chicago. Speakers included Antonio Gutierrez, Russia Brown and Samer Owaida, among others.
It was a beautiful day, and the crowds came out to celebrate Palm Springs Pride, and to support the LGBTQ community.
This year's Come Out With Pride celebration was so huge, that we just had to post part two.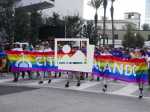 What a beautiful day for a celebration! The crowds came out to show their Pride and to support the LGBTQ community as they enjoyed this year's Come Out With Pride.