Palm Springs: The Ultimate Winter Getaway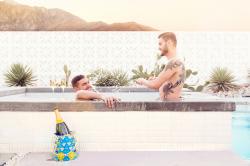 There's no better place for sunshine with a splash of style and some of the season's most coveted LGBTQ events than Palm Springs.

The Arenas District is quickly becoming a central hub for the queer community, with restaurants, nightlife and nearby accommodations to make for a hassle-free getaway.

Here are our picks for where to eat, play and stay in Palm Springs.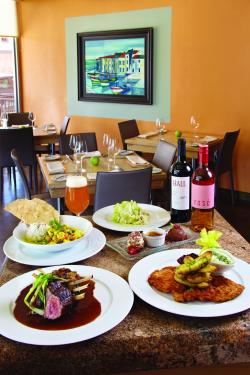 BITES
Lulu — Start the day with breakfast at Lulu, featuring fresh-squeezed orange juice, freshly baked breads and signature items such as made-from-scratch corned beef hash and beef short rib eggs benedict. Those with a sweet tooth can enjoy French crepes, filled with fresh fruit or decadent chocolate and hazelnut. Be sure to check out the artwork, including artist Curry Mendes' large-scale pieces featuring pop icons such as Marilyn Monroe and Elizabeth Taylor.

Blackbook Bar — Owner Dean Lavine has been instrumental in uniting the Arenas District into a collective of community-minded businesses, and it doesn't hurt that he's serving up some of the area's most delicious comfort food late into the night.

"I love talking about the menu!" says Lavine. "This is our mantra: if we're going to do food, then it will be the best bar food that we can do."

Blackbook Bar's disco superfries — loaded with ranch and buffalo sauce, tomato, guacamole and bacon — have already become legendary, as have the hand-packed, half-pound burgers. The salsa flight with housemade tortilla chips offers a terrific accompaniment to the bar menu, and late-night service ensures you can grab a great bite as the evening wears on.

Johannes — Wiener Schnitzel in the heart of the Coachella Valley? You bet. Chef Johannes Bacher brings his modern European culinary flair to Palm Springs with a menu that celebrates his Austrian heritage. Bacher offers seven variations of Wiener Schnitzel, the classic Austrian dish (Hint: Head to the bar for a smaller portion.) Other stand-outs include garlicky escargot, roasted wild Isle salmon, and a decadent chocolate mousse infused with orange, cinnamon and chipotle.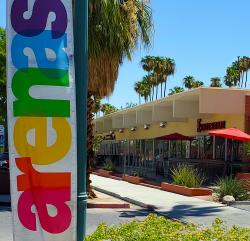 STROLL AND SHOP
Leave room in your suitcase — local shops throughout the Arenas District offer unique finds for every style and budget.

Krave and Kulture — Casual fashion gets a makeover thanks to Krave and Kulture's founder David Quintanilla, who draws inspiration from his art and photography background to create unique clothing designed and manufactured in California. Favorite finds from the new collection include "La Bestia" tiger tank, "Sheer Nouveau" mesh and faux leather tank, and a recently-released line of swim briefs in holographic gold, camo print, and starfish stars and stripes.

Bear Wear — After years as a pop-up booth at various LGBTQ events, Bear Wear finally established roots in 2003 and has been a Palm Springs mainstay ever since. The ever-changing collection includes graphic T-shirts, polos with rainbow bear embroidery, an array of swim briefs and trunks.

Palm Springs Piercing Company — Owner David McCammon and his crew offer expert services when it comes to piercing and body modifications. Safety and an impeccably clean work environment are of the utmost importance for piercings and transdermal implants and beading. The shop also features a unique collection of hand-crafted body jewelry from Anatometal, LeRoi, Oracle Body Jewelry and other artisans.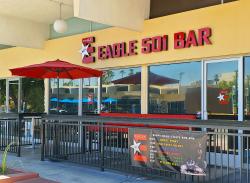 INTO THE NIGHT
Stroll along The Arenas District, and you'll discover an array of bars and clubs. All within walking distance from one another, it's the ideal locale to gather with friends and make new ones as you chat up locals about all things Palm Springs.

Stacy's Palm Springs — This classic piano bar is a delightful kick-off or primary destination for a night out, with live music featuring jazz, American Songbook standards and show tunes. (If you've got a song in you, take the mic on Tuesday nights!) Craft cocktails further elevate the experience, including a Bloody Mary featuring six different vodkas and the Black Keys, which combines Stillhouse bourbon, Mr. Black cold brew coffee liquor and orange bitters.

Hunter's — A Palm Springs nightlife institution, Hunter's has hosted some of the best LGBTQ parties in the area for more than 20 years. Happy hour starts at 10 a.m. and lasts until 7 p.m., a whopping nine hours! The floor-to-ceiling glass windows don't let you forget that you're in one of the country's most picturesque spots, but the crowd on the inside is just as beautiful. Dancing goes late into the night, but for those that enjoy a more low-key bar vibe, stop by early for Drag Bingo on Wednesday nights (6 p.m.) or trivia on Thursdays (5 p.m.).

The Eagle 501 — The name is a giveaway, but the vibe on the inside is as modern as it is classic leather bar. Fetish, kink, country and grunge converge in this sex-positive environment that welcomes all types. If you're lucky, maybe you'll cross paths with the very first Eagle 501 Mr. Leather Justin Hauser. Friday nights boast Meat Packing Go-Go while Saturdays offer Go-Go Butcher Shop.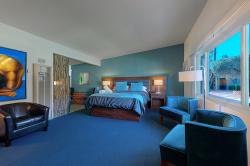 STAY A WHILE
Hotel Zoso —Hotel Zoso's rooms and suites offer unique design elements, with touches of soothing purple and taupe, accented with vibrant artwork. The on-site Wild Rose Spa is the perfect escape for a relaxing body treatment, while the Pink Flamingo Lounge offers cocktails, bar bites, and a collection of retro 80s video games for fun any time of day or night.

The Hacienda at Warm Sands — Forget the tan lines! This clothing-optional men's resort features lush gardens, a Japanese water feature, two pools and plenty of ways to catch some rays. With only nine suites and one room, this intimate enclave is the ideal way to travel with friends or a partner or take over the entire resort for a private getaway. The staff's attention to detail can further elevate your experience with pre-arrival personal shopper service, in-room spa treatments and concierge services.

INNdulge — Located just a mile from the bustling Arenas District, INNdulge offers a clothing-optional oasis for men, along with plenty of amenities to pamper your stay. Free Wi-Fi, daily continental breakfast, saltwater pool and a 12-person hot tub are just a handful of perks awaiting guests. But it's the social environment that keeps guests coming back, including evening social hours and weekend pool parties.

DON'T MISS

The Dinah — Started by Mariah Hanson in 1991, the Dinah has grown into one of the largest festivals for women in the world. A week's worth of parties includes a comedy show, pool parties (including one hosted by "The L Word" on April 4), Black and White Ball and more. April 1-6, 2020

White Party Palm Springs — The epic weekend of dance and entertainment returns with an all-star line-up of international DJs and entertainment that has made the White Party a legend for more than 30 years. This year's festivities including the kick-off Top Gun party at the Palm Springs Air Museum, Lords of the Galaxy the following night, and Sunday Splash at the host hotel, the Palms Springs Hilton. April 24-27, 2020

Want more ideas for your next Palm Springs vacation? Explore www.visitgaypalmsprings.com.

Sponsored content.
Comments on Facebook