Gay News: The Latest
In a Los Angeles Times interview this week, Kim Cattrall said she has no regrets over publicly slamming former "Sex and the City" co-star Sarah Jessica Parker in 2018.
Queer Eye's resident foodie Antoni Porowski called the establishment by Polish towns as Gay Free Zones "absurd."
"Troubled Blood," Rowling's latest under pseudonym Robert Galbraith, hits #1 in the UK despite a transphobic storyline and a critical badgering.
According to one expert, it's likely that not just one but several of the competing COVID-19 vaccines will be shown to be safe and effective by the end of 2020. But which one should you receive, if any?
HBO Max has ordered "Peacemaker," starring WWE wrestler and actor John Cena, in an eight-episode series spinoff from the upcoming film "Suicide Squad," in which the actor also stars.
Illinois Republican State Representative Amy Grant has apologized for audio recordings of a phone call in which she mocked her Black, gay Democratic challenger, Ken Mejia-Beal.
Photographer Luke Gilford is often seen in public dressed as a cowboy, a nod to his Colorado roots. But it wasn't until he came across the Int. Gay Rodeo Association did he realize he could reconcile his queer identity with the macho image of the cowboy.I
The Walt Disney Co. has further postponed its next mega-movies from Marvel, including "Black Widow," while also postponing Steven Spielberg's "West Side Story" a full year in the company's latest recalibration due to the pandemic.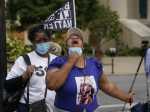 A Kentucky grand jury on Wednesday indicted a single former police officer for shooting into neighboring apartments but did not move forward with charges against any officers for their role in Breonna Taylor's death.
Two actors who played brothers on the long-running British soap opera "Emmerdale" are opening up about the real-life relationship.
Earlier this year, due to concerns around COVID-19, the APC announced that the 50th anniversary festival would be a virtual event. In spite of this change, there is a fantastic lineup of programming that they will stream!
Out on Film presented by WarnerMedia has announced the late-breaking additions to the already impressive lineup of films and events for the 33rd edition of the Atlanta-based LGBTQIA+ film festival.
A new study reveals 68 percent of hotels have less than half of their typical, pre-crisis staff working full time, and without further governmental assistance, 74 percent of respondents said they would be forced to lay off additional employees.
Have you saturated your swipe quotient? Start exercising those fingers because there's a new app in town, focusing on the HIV-positive community.
"He doesn't want to crush the virus. He wants to crush the Affordable Care Act," says House Speaker Nancy Pelosi of President Trump. Will his wish come true with a shift in the Supreme Court?
Tesla is working on new battery technology that CEO Elon Musk says will enable the company within the next three years to make more affordable cars that can travel dramatically longer distances on a single charge.
Have you been leaning into your java fix the past six months? You're not alone. The average coffee drinker consuming more than three cups per day. Here are the country's top coffee cities according to a new study.
Front-line health care workers are locked in a heated dispute with many infection control specialists and hospital administrators over how the novel coronavirus is spread ? and therefore, what level of protective gear is appropriate.
Are you ready for a weekend getaway? We've canvassed the country, looking for the best LGBTQ-friendly fall vacations. Check out our top picks — no passport required!
Adult Filmmeister Michael Lucas took his latest shoot on the road — to Nottingham, England to be precise, and appears to have flaunted Britain's COVID-19 guidelines.