Gay News: The Latest
Priyanka Chopra Jonas and her husband Nick Jonas announced on their Instagram pages Friday that they welcomed their first child together. She said a surrogate gave birth to the couple's baby on Jan. 15.
Team USA's opening ceremony uniforms for the Beijing Olympics include some sneaky new warming technology, along with a handy front pouch and a cinch waist on anoraks in navy and white.
Three studies released Friday offered more evidence that COVID-19 vaccines are standing up to the omicron variant, at least among people who received booster shots.
Why Michelle Visage was turned down by "Drag Race España." The "RuPaul's Drag Race" mainstay wanted to appear as a judge on the Spanish edition, but was told to sashay away.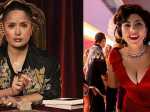 The "Monster" singer turned actress reveals yet another story about the story behind her recent film, "House of Gucci."
With the Oscar noms approaching on February 8, here's a look at some films that likely will not receive nominations, in part because the genres they represent are largely ignored by the AMPAS.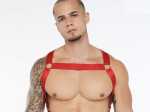 This week's edition of Gay Twitter includes hilarious reactions to the latest episodes of "Drag Race," "Euphoria," "AJLT," as well as diverse M&Ms and more!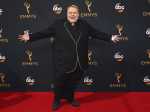 Louie Anderson, whose four-decade career as a comedian and actor included his unlikely, Emmy-winning performance as mom to twin adult sons in the TV series "Baskets," died Friday. He was 68.
Olympian Gus Kenworthy thirst trapped his New Year's Eve greeting, hitchhiking in the nude from a most unlikely locale.
A consumer group claimed to have found that Tinder is charging gay and lesbian users more — by as much as nearly 50% — but has since retracted that accusation.
A gay couple in the UK were stunned when a Christian couple rebuffed their interest in a house for sale because of the men's sexuality.
A pleasurable third album by Olly Alexander and co., with songs that get in and make their point without overstaying their welcome on the dance floor.
Amazon says it plans to open a clothing store in a Southern California mall later this year, a first for the online behemoth and a fresh challenge for already struggling traditional retailers.
New research shows having a greater number of older brothers increases the probability of a person entering a same-sex union at some point in their lives.

For the first time in half a year, families on Friday are going without a monthly deposit from the child tax credit.
Here are five ways that car buying has changed, along with a few tips on how to manage it.
Dior took over Paris' iconic Place de la Concorde for a menswear show Friday whose theme was none other than the city of Paris itself.
Health officials warn that certain treatments no longer work against the highly contagious version of the virus that causes COVID-19.
Food, drink, wall-to-wall history, and pride in abundance: Where can you find so much of all these things but in San Francisco? Here are some of our picks for what to do in the city.
Baby talk is cute when grown-ups dote on babies. But when adults converse with each other? Not so much. So why do couples do it?