Gay News: The Latest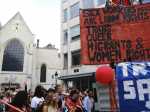 Sex workers have been saying they face significant violence from police and clients for decades and it is time that we all listen to these voices when determining how to improve safety for sex workers," says an ACLU representative.
President Donald Trump, a man who is famously particular about his appearance, is fully embracing doing a dad dance to the Village People's "YMCA" as the finale to his rallies in the campaign's closing stretch.
Months after vowing to process a backlog of 160,000 requests for loan forgiveness from students who say they were defrauded by their schools, the U.S. Education Department has rejected 94% of claims it has reviewed.
Halloween is synonymous with The Boulet Brothers, the LA-based duo whose "Dragula" competition show is a Netflix hit. This year they are doing something different & talk about their Shudder special, 'Dragula: Resurrection.'
Outfest® has launched
Outfest Now
, a year-round, always-on destination to meet the increasing demands for fresh storytelling with new perspectives within the LGBTQIA+ community.
"The Boulet Brothers' Dragula: Resurrection," the hybrid horror/reality competition/documentary feature is the first spin-off of the groundbreaking drag competition series "The Boulet Brothers' Dragula."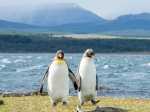 A pair of gay male penguins in a Netherlands zoo have appropriated eggs belonging to a lesbian penguin couple. It's their latest caper in a quest to become dads.
Steven Arauz, a teacher at a Seventh Day Adventist school, was fired when a publication about gay parenting identified him as gay.
To honor LGBTQ History Month, Todrick Hall has partnered with Orbitz to share some of his favorite queer locales throughout Los Angeles.
Pope Francis endorsed same-sex civil unions for the first time as pope while being interviewed for the feature-length documentary "Francesco," which had its premiere at the Rome Film Festival on Wednesday.
Twitter declared Chris Pratt "the worst" Chris in Hollywood, sparking his wife Katherine Schwarzenegger and fellow celebs to rush to his defense.
The upcoming queer Christmas romcom "Happiest Season," starring a number of out actors including Kristen Stewart and Dany Levy, will debut on Hulu next month instead of heading to theaters.
Netflix's subscriber growth slowed dramatically during the summer months after surging in the spring fueled by pandemic lockdowns that corralled millions of people in their homes.
Microsoft Azure provides an ever-growing collection of services that ensure the success of businesses. Moreover, this leads to the opportunity for professionals to build an interesting and rewarding career.
President Donald Trump's sprawling political operation has raised well over $1 billion since he took the White House in 2017 — and set a lot of it on fire.
Seven auto companies have plans to roll out new battery-powered pickup trucks over the next two years, aiming to cash in on a popular and lucrative market for expensive vehicles.
It's that time of the year again! In case 2020 isn't scary enough for you - here are five Halloween cocktails straight out of your nightmares!
As temperatures fall, people are spending more time indoors. That heightens the risk of the coronavirus spreading, but there are some simple steps you can take to help protect yourself and everyone around you.
Grab your weekender bag and get out of town. The leaves are turning, and there's a small window of time to take in Mother Nature's annual fashion makeover.
CBD Unlimited is a market leader within CBD industry. Better Products, Better You! Strive to Be Unlimited!
www.cbdunlimited.com