Gay News: The Latest
Supporters of an Indiana minister who was suspended for calling organizers of the Black Lives Matter movement "maggots and parasites" walked out of a service and shouted at a bishop.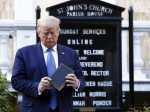 President Donald Trump's June began with his Bible-clutching photo op outside a church after authorities used chemicals and batons to scatter peaceful demonstrators. It never got less jarring or divisive.
A Black man says a group of white men assaulted him and threatened to "get a noose" after claiming that he and his friends had trespassed on private property as they gathered at an Indiana lake.
The Unique Woman's Coalition announced that it will be holding their virtual fundraiser event Unique Woman's Coalition Community Celebration on July 11 at 3pm PT / 6pm ET. The event will feature musical performances from notable black trans artists.
Porn director and drag personality Chi Chi LaRue was recently suspended from directing adult features from two studios after accusations of sexually abusing an adult actor. But, like Norma Desmond, she vows a comeback.
"Dead to Me" will return to Netflix for a third and final season.
"Big Brother" will return for its 22nd season, which will be an all-stars edition, amid the pandemic, according to TMZ.
A white woman who called the police during a videotaped dispute with a Black man over walking her dog without a leash in Central Park was charged Monday with filing a false police report.
Join The History Project and Hilary Iris Lowe of Temple University and Nicole Mello of the Longfellow House - Washington's Headquarters National Historic site for a presentation on house museums and a case study of the interpretation of LGBTQ+ history.
Photos and videos of people partying, which were purportedly taken at the gaycation hotspot Fire Island in New York, went viral over the July 4th weekend.
ABC News reporter James Longman announced last week that he is engaged.
After his graceful turn dancing with a rainbow ribbon, Rob Gronkowksi (aka The Gronk) returned to the CBS show "Game On" where he attempted to make Guinness Book of World Records history this week.
A judge on Monday set a $1.2 million bail for the man accused of driving a Jaguar on to a closed Seattle freeway and hitting two protesters, killing one and seriously injuring the other.
TikTok said Tuesday it will stop operations in Hong Kong, joining other social media companies in warily eyeing ramifications of a sweeping national security law that took effect last week.

Some newly unemployed people are taking advantage of special enrollment periods to sign up for plans offered on the Affordable Care Act's insurance marketplaces, while others find they qualify for Medicaid.
Mercedes-Benz will recall more than 660,000 vehicles in China later this year for a possible oil leak.
After first canceling the July shows for menswear and Haute Couture, the French fashion federation has now organized an unprecedented schedule of digital-only events instead.

New numbers on the global AIDS epidemic show some big successes, such as fewer deaths and new infections. But there are also some tragic failures: Only half the children with HIV, the virus that causes the disease, are getting treatment.
Paris' Louvre Museum, which houses the world's most famous portrait, reopened Monday after a four-month coronavirus lockdown and without its usual huge throngs.
"The outpouring of love and donations on the various platforms has been incredible. But we need continued support until we reopen," says Henrietta Hudson owner Lisa Cannistraci. "I'm not going to lose the bar. I'm not going to let it happen."