Gay News: The Latest
The Nashville-based, queer alternative rock artist Kristen Ford will release a new EP next month title "No Plans."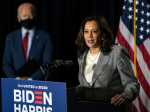 This week the Not Real News focuses on false news that spread about Sen. Kamala Harris, announced Tuesday as presumptive Democratic candidate Joe Biden's running mate. Here are the facts.
The new Mississippi flag could include a magnolia or stars or representations of rivers. Or it could reflect the state's Native American heritage.
A woman has survived a great white shark attack on Australia's east coast after her surfing companion repeatedly punched it until it let her go
Bone-dry vegetation fueled three wildfires near Los Angeles amid warnings Friday that the risk of new blazes erupting was high as temperatures spike and humidity levels drop.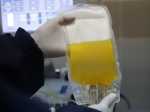 It's a go-to tactic when new diseases come along, and history suggests it works against some, but not all, infections.
Suburban Atlanta's Stone Mountain Park, home of a giant sculpture of Confederate leaders, says it will close its gates Saturday in the face of a planned right-wing rally.
Democrats are scrambling to deal with the strong possibility that a 19-year-old candidate for a Kansas House seat in Kansas City will unseat a veteran lawmaker despite making incendiary comments on social media.
Portland police declared an unlawful assembly Friday night and ordered protesters to leave, saying people were throwing things at officers.
The U.S. Postal Service is warning states coast to coast that it cannot guarantee all ballots cast by mail for the November election will arrive in time to be counted, even if mailed by state deadlines.
They emerged dazed, shaken and in tears from the detention center in Minsk, to be met by waiting relatives. They displayed the black-and-blue bruises on their bodies, saying police had beaten them mercilessly.

A round up of the best LGBTQ tweets from this week, including reactions to Kamala Harris, "Drag Race," Dolly Parton, thirst traps and more!
If you haven't filled out the 2020 census form yet, you may be getting an email, call or questionnaire in the mail asking you to answer the questions.
Newly released body-camera video from a third officer involved in George Floyd's arrest captures for the first time the growing horror of onlookers who repeatedly pleaded with the officers to get off Floyd.
Numerous insurers across the country have announced plans to hike rates next year, though some have proposed cuts.
Allegations by General Motors that Fiat Chrysler Automobiles bribed union officials are "preposterous" and read like a script from a "third-rate spy movie," FCA lawyers wrote in court documents filed Monday.
We're not playing favorites, and either should you. There's room for all in your underwear drawer. Here's a look as what's trending now.
Last month, the Trump administration announced a reversal of a Department of Health and Human Services administrative rule, erasing protections for transgender patients.
The exodus was prompted by the British government's decision late Thursday to take France off a list of nations exempt from traveler quarantine requirements because of a sharp rise there in new virus infections.
Provincetown Carnival attracts somewhere near 80,000 people to the town for the celebrations - something impossible in this year of COVID. The event was scheduled to begin this Friday. Here's a look back at carnival past - part 1 of 2.