Gay News: The Latest
In the five years since California voters approved a broad legal marketplace for marijuana, thousands of greenhouses have sprouted across the state. But these, under their plastic canopies, conceal a secret.
President Joe Biden and first lady Jill Biden packed carrots and apples into food boxes for the hungry and chatted with volunteers Sunday at a food bank as part of a day of service for Martin Luther King, Jr. Day.
New Zealand's military on Monday morning was able to send a surveillance flight to Tonga to assess the extent of the damage from a huge undersea volcanic eruption.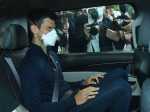 Australia made its decision, but opinion remains divided worldwide on Novak Djokovic and whether he should have been allowed to compete in the Australian Open despite not being vaccinated against COVID-19.
After a month at no. 1, "Spider-Man: No Way Home" has finally been overtaken at the box office. Paramount Pictures' "Scream" reboot debuted with $30.6 million in ticket sales over the weekend, according to studio estimates Sunday.
A Catholic diocese in Poland apologized on Thursday for having asked a court to determine whether a man who was sexually abused as a child by a priest is gay, and whether the sexual contact may have consequently been pleasurable for him.
Did the New York Times piece about an upcoming gay cruise perpetuate the stereotype of a party-hardy, libidinous gay male traveler?
Australian social media starlet Peach PRC turned to social media this weekend to let the world know that she's a lesbian.
A man held hostages for more than 10 hours Saturday at a Texas synagogue where he could be heard ranting in a livestream and demanding the release of a Pakistani neuroscientist.
The six-year legal battle over pop superstar Prince's estate has ended, meaning the process of distributing the artist's wealth could begin next month.
Novak Djokovic left Australia on Sunday evening after losing his final bid to avoid deportation and play in the Australian Open despite being unvaccinated for COVID-19.
Animal rescue and advocacy groups are seeing the donations pour in as fans of the late tv star respond to the #BettyWhiteChallenge.
The Supreme Court has stopped a major push by the Biden administration to boost the nation's COVID-19 vaccination rate.
Get ready to learn more Greek letters. Scientists warn that omicron's whirlwind advance practically ensures it won't be the last version of the coronavirus to worry the world.

For the first time in half a year, families on Friday are going without a monthly deposit from the child tax credit.
Here are five ways that car buying has changed, along with a few tips on how to manage it.
Jeff Goldblum infused Milan Fashion Week with some levity on Sunday as he shimmied down the Prada runway in a dark overcoat that cast a dramatic silhouette.
While home antigen testing remains a useful — and underutilized — tool to curb the pandemic, experts say, it is often misused and may provide false confidence.
Three women are facing federal charges of attacking an airline security worker who tried to block them from boarding a flight at New York's John F. Kennedy Airport.
The UK may pardon historic homosexual offenses such as "persistent importuning," but the government still needs to address the legacy of criminalization.