As of right now, additional funding linked to the administration's Ending the HIV Epidemic (EtE) initiative has not been included as an anomaly in the current CR; as a result, the future of EtE programming remains in doubt.
The law, SB-159, eliminates mandatory doctor visits and bars insurance companies from requiring prior authorization for PEP and PrEP drugs.
A dance teacher who appeared on a reality TV show has pleaded guilty in Tennessee to raping a teenage student and exposing him to the AIDS virus.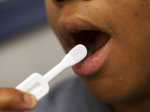 Mailing free home HIV tests to high-risk men offers a potentially better strategy for detecting infections than usual care.
Researchers say that technological advances have allowed them to identify a previously-unknown strain of the virus that causes AIDS in several samples that have been stored for years.
A University of Miami-sponsored program called the IDEA Exchange has begun providing infected homeless people with medication lockers: secure locations where participants' prescriptions are stored.
National Institutes of Health (NIH) and Massachusetts General Hospital (MGH) researchers have identified a new use for tesamorelin which may help reverse liver disease in those living with HIV. Read the highlights of the NIH press release here.
The Aids Healthcare Foundation (AHF) called on October 5 for Gilead Sciences Inc. to cut prices of pre-exposure prophalaxis drug Descovy. The new medication,was recently FDA approved amid controversy concerning its limited lab testing demographics.
The Food and Drug Administration approved the use of Descovy as an HIV prevention drug on Thursday. Descovy contains a newer formulation of the drug in Truvada, which has been used to treat those infected with HIV since 2004.
Pharmacists in California will be able to dispense HIV prevention pills to patients without a doctor's prescription after Gov. Gavin Newsom signed legislation Monday that supporters say will greatly reduce the spread of infection.