1 thru 10 of 26835 Stories
Chicago detectives suspect that "Empire" actor Jussie Smollett filed a false police report when he said he was the victim of a racist, homophobic attack in downtown Chicago late last month, a police official said Wednesday.
Two men who placed an order at a Little Caesar's Pizza in Henrico Country, Virginia, found that the word "Gay" had been printed on their receipt.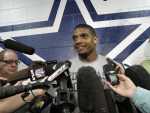 The first openly gay football player to be drafted by the NFL, Michael Sam, told students at the University of New Mexico about his experiences - and shared the kind of support that he himself has received.
The Supreme Court is declining to get involved in the corruption case against former Illinois congressman Aaron Schock.
Chicago's top prosecutor recused herself from the investigation into the attack reported by "Empire" actor Jussie Smollett shortly after police requested another interview with the actor.
Chicago police have dismissed a tip that on the night "Empire" actor Jussie Smollett reported being attacked by two masked men, he was in an elevator of his apartment building with two brothers later arrested and released from custody in the probe.
A Virginia school district that has drawn national attention for its transgender bathroom ban appeared starkly divided Tuesday over the prospect of ending the policy.
A California misdemeanor complaint against Jussie Smollett shows the actor was accused of identifying himself as his younger brother in 2007 when a Los Angeles police officer pulled him over on suspicion of driving under the influence.
California Governor Gavin Newsom has made history by hiring a transgender man as part of his administration's communications team. JP Petrucione is believed to be the highest-ranking, out, transgender appointee in state history.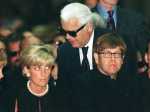 Some reaction to the death of fashion designer Karl Lagerfeld.
1 thru 10 of 26835 Stories