Watch: Woman's Anti-Gay Rant at Nail Salon Captured on Video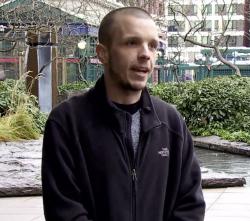 A Washington state man says a woman went on an anti-gay rant towards him when he asked her to take her conversation off speaker phone, KOMO News reports.

Christopher Brown says he stopped at Casabella Spa & Nails in Lynnwood, Wash. on Dec. 30 for a pedicure. He told the news station a woman came in after him, sat down next to him and started to talk on her cellphone via speakerphone.

"When I asked her to take her phone off speaker, she looked at me, looked back at her phone call, and then said, hold on, let me take care of this faggot, and then hung up her phone," Brown explained.

Brown then used his phone to record the woman's rant. In the video, the woman is asking employees to remove Brown from the spa but they refuse. She then gets up and leaves, spewing gay slurs as she exits.

"Keep recording, sissy," she can be heard saying. "Faggot, sissy, queer! Eat my pussy!"

A staff member of the spa told KOMO News Brown was polite during the incident.

"I was in complete disbelief and shock," he told the news station. "It took about a week of not sleeping, a week of anxiety, a week of worrying what would happen if I didn't act, for me to finally step up."

Speaking with The Huffington Post, Brown said he moved from Indiana to the Seattle area to get away from anti-gay treatment. He said he "couldn't fathom something like this would happen in the safe haven of Seattle metro."

"I wouldn't want to cause any undue harm on her life," Brown added. "I would just want her to come to light with what she said, realize that those views are not okay and that you can't treat people like that."

Watch KOMO News' report on the incident below. Warning: It includes graphic language.
Comments on Facebook