PETA Protests Porn Film's Alligator Appearance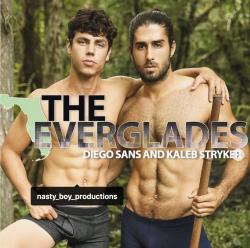 The animal welfare group People for the Ethical Treatment of Animals (PETA) protested a porn film's unusual bit player: An alligator that gave a scene filmed on location in the Everglades a little local authenticity, reported LGBTQ news source Gay Star News.
The film — titled "The Everglades" — is a Men.com production and stars Diego Sans and Kaleb Stryker. The controversial shoot was of a "sex scene," Gay Star News reported.
PETA's Director, Elisa Allen, spoke with the LGBTQ news site, saying that "wild animals should be left to their own private lives, never used as props or decorations."
Allen went on the say that animals "deserve to be spared the confusion, stress, confinement, and exposure to bright lights and loud noises that are inevitable on a film set — and the distress caused by shifting them from place to place — which is why PETA urges all film directors to work only with willing, human actors."
But "The Everglades" director Marc MacNamara, denied that the production had forced the participation of any alligator.
'No animals were corralled, moved or used as props. No lighting was used,' MacNamara commented to Gay Star News, adding that when alligators approached the crew, "we backed off to respect their natural migration," and claimed that the production included the services of a conservationist in order not to cause any disruption to the local wildlife.
MacNamara noted that outdoor filming entails the prospect that "animals might come near. But they were documented not directed," MacNamara insisted.
"These alligators were absolutely majestic beauties and our priority was respect and non-interference with nature," he said.
LGBTQ news site Queerty offered more detail on the context around the alligator's onscreen appearance.
"During their scene, an alligator floats in the water near their pontoon," Queerty reported, "and then stalks through the mud in the background as Sans tops Stryker."
Followers of the studio's Instagram feed offered light-hearted commentary in the wake of the PETA critique.
"Well the gator meat looks fall off the bone tender," wisecracked one individual, evidently remarking on the post's photo depicting the film's two leads, who were posed outdoors in their undergarments.
Exclaimed another: "Seriously? Right in front of my ALLIGATOR?"
Kilian Melloy serves as EDGE Media Network's Assistant Arts Editor. He also reviews theater for WBUR. His professional memberships include the National Lesbian & Gay Journalists Association, the Boston Online Film Critics Association, The Gay and Lesbian Entertainment Critics Association, and the Boston Theater Critics Association's Elliot Norton Awards Committee.
Comments on Facebook