Gay Latin Trap Artist Kevin Fret Shot Dead in Puerto Rico at 24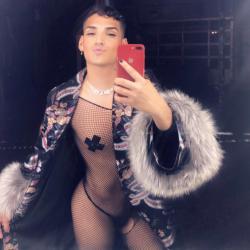 Rising Latin trap artist Kevin Fret was shot dead in Santurce, San Juan, Puerto Rico Thursday morning, according to Pitchfork. He was 24.

The singer, who dubbed himself the first openly gay Latin trap artist, was riding his motorcycle around 5:30 a.m. when he was attacked. He later died at the Medical Center for Rio Piers, according to El Nuevo Dia via People magazine.

His death is currently under investigation.

Fret's manager has confirmed the singer's tragic death.

"Kevin was an artistic soul, a dreamer with a big heart," Eduardo Rodriguez said in a statement via Billboard. "His passion was music, and he still had a lot left to do. This violence should stop. There are no words to describe our emotions and the pain that it causes us to know that a person with so many dreams has to go.

"We should all unite in these difficult times, and ask for lots of peace for our beloved Puerto Rico," he added.

CBS News reports Fret's murder is the 22nd homicide in Puerto Rico this year.

Many fans reacted to Fret's death, including "Queer Eye" star Jonathan Van Ness, who tweeted:





Check out Fret's music video for his song "Soy Asi" below.
Comments on Facebook