Krisha
'Krisha'
Krisha, a new film from writer/director Trey Edward Shults, has made a lot of noise on the festival circuit, winning the Grand Jury and Audience Awards at the 2015 South by Southwest Film Festival, screening at the Cannes Film Festival's 2015 International Critics' Week, and achieving laudatory reviews. The attention is well deserved: "Krisha" is a devastating character study with a magnificent lead performance by Krisha Fairchild.
The film details a particularly messy Thanksgiving when the title character, a troubled woman in her sixties, travels to her sister's home for the celebration. We first meet her in tight close-up, the soundtrack blaring horror film chords, as she drives a battered pick-up truck into a wealthy Texas neighborhood. Krisha's eyes are wary, her face weary, and, while we never learn the particulars, we soon understand that she has been estranged from the family for some time, struggled with drugs and alcohol, and, based on the freshness of the bandage, has recently lost the tip of her index finger.
Throughout the all-day dinner preparation, Krisha drifts unmoored and mostly avoided, trying to be helpful, straining to be polite, but flinching at boisterous cheer and emitting waves of loneliness. Navigating twenty-something nephews, her confused elderly mother, a bitter brother-in-law, and her own adult son, she's like a wounded shark with revealing morsels of her painful past dropping here and there.
Subtle moments throughout the film expose the internal fury and wrong-directed impulses that have misshaped the sad life she's living. As her sister notes, Krisha has "done the work" to get her life back in shape. But when she stumbles in her efforts to start fresh with one particular family member, all of her hard work quickly unravels.
Krisha is a beautifully filmed and naturally staged presentation of a desperate woman's last grasp at happiness, tragically undercut by her own failings. Shults, who also plays a pivotal role in the film, has great empathy for Krisha and the other key characters who have been down too many dark roads with this woman and are willing to take another chance. (Several of them are portrayed by Shults' real-life family members, including Fairchild, who is his aunt.) "Krisha" is now open in limited release; if you enjoy explosive films without actual explosions, check it out.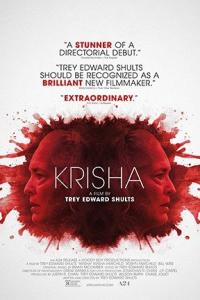 Info
Cast
Krisha :: Krisha Fairchild
Robyn :: Robyn Fairchild
Doyle :: Bill Wise
Dr. Becker :: Chris Doubek
Olivia :: Olivia Applegate
Alex :: Alex Dobrenko
Chase :: Chase Joliet
Logan :: Bryan Casserly
Grandma :: Billie Fairchild
Augustine :: Augustine Frizzell
Vicky :: Victoria Fairchild
Rose :: Rose Nelson

Crew
Director :: Trey Shults
Screenwriter :: Trey Shults
Producer :: Justin Chan
Producer :: Trey Shults
Producer :: Wilson Smith
Producer :: Chase Joliet
Executive Producer :: Jonathan Chan
Executive Producer :: J.P. Castel
Cinematographer :: Drew Daniels
Film Editor :: Trey Shults
Original Music :: Brian McOmber

×
Also in Entertainment
Read More »