Playing For Keeps
Jessica Biel and Gerard Butler in "Playing For Keeps"
This romantic comedy takes a plot that would have fit right in with the great comedies of decades past, and stocks it with A-List actors before promptly fizzling out.
"Playing for Keeps" is written by Robbie Fox and directed by Gabriele Muccino. Gerard Butler shucks his battle armor from "300" and "Coriolanus," but holds on to his charming smile from "PS I Love You." He also dons some soccer gear for the role of George Dryer, an overgrown man-child whose career-ending injury has knocked him out of the professional soccer firmament. Bad behavior has also bumped him out of his marriage to Stacie (Jessica Biel), who's now engaged to Matt (James Tupper).
Gerard Butler in "Playing For Keeps"
It's as much for Stacie as for his son with her, Lewis (Noah Lomax), that George moves to the same town where they live. But with little in the way of job prospects, George is left with dwindling finances and too much time; in other words, he's the perfect choice to coach his son's soccer team.

George is determined to start being a good father. He also entertains a dim hope of somehow reconciling with Stacie. Naturally, the movie is going to throw beautiful women his way, because who can resist a devoted, hunky single dad with a Scottish accent?

Cue the desperate soccer moms (Judy Greer, Uma Thurman, and Catherine Zeta-Jones). One is going through a divorce; another is still married (to a psycho played by Dennis Quaid); the third is a former sports announcer who still has some connections that might just hook George up to a cushy gig with ESPN.

"Playing for Keeps" generates a little smoke and a few laughs, but there's no real fire or wit. Gags involving Param (Iqbal Theba), the sexually frustrated, somewhat voyeuristic landlord (he's from India, which seems both obvious and gratuitous), abound, along with fairly standard, Lego-like story elements that snap together as expected but then lie flat and lifeless on the screen.

Indeed, lifeless is a good single-word summary for this movie. The dad flails, the kid sulks, the ex-wife casts glances that mix judgment with pity and regret, her new beau watches with an uneasy air and the horny soccer moms act as pheremonally giddy as high school girls.

Don't worry, there's a happy ending, as is de rigeur< for rom-coms...but then again, any ending would count as happy as long as it brings this ineffectual fluff to a finish.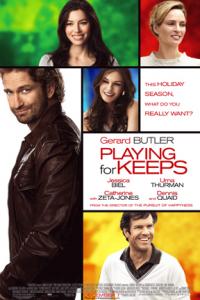 Info
×
Also in Entertainment
Read More »
Kilian Melloy serves as EDGE Media Network's Associate Arts Editor and Staff Contributor. His professional memberships include the National Lesbian & Gay Journalists Association, the Boston Online Film Critics Association, The Gay and Lesbian Entertainment Critics Association, and the Boston Theater Critics Association's Elliot Norton Awards Committee.