Papa: Hemingway in Cuba
'Papa: Hemingway in Cuba'
Denne Bart Petitclerc wrote the screenplay for "Papa: Hemingway in Cuba" by drawing on his own experiences with the great American writer. The story is largely told from the point of view of the twenty-something protagonist, Ed Myers (Giovanni Ribisi), a stand-in for Leclerc; as such, his confusion at Hemingway's (Adrain Sparks) mood swings and those of his wife Mary (Joely Richardson) confound him, and us along with him.
If framed in a better screenplay and handled with more directorial inspiration, that would all be fine -- maybe even emotionally powerful, given Ed's history of parental abandonment and the quasi-filial bond that he forms with Hemingway. But Leclerc's script has the feeling of a third-rate property that's resided in a bottom drawer for decades; you suspect it's only been pulled out and dusted off to take advantage of thawing relations between the United States and Cuba. (Buzz around the project takes note of the fact that it was shot on location, "the first Hollywood film to be shot in Cuba since 1959," as the blurb at IMDB has it.)
Leclerc's script is a patchwork and a morass, trying to fuse disparate elements and full of ungainly transitions. Ed has a beautiful female colleague named Debbie (Minka Kelly) interested in him -- so much so that she's left her award-winning journalist husband for him. Ed himself is a journalist, a reporter at a Miami newspaper. His career choice, and his greater aspirations to become a published fiction writer, stem from his boyhood obsession with Hemingway; evidently, growing up in an orphanage has a way of turning smart, sensitive young men on to literature.
Ed's friendship with Hemingway is the sort of fairytale that never comes true in real life, and wouldn't have done here either except for Deb's meddling: After discovering the fan letter Ed wrote to his idol, but is too chicken to put into the post, she mails it on his behalf. What follows feels increasingly like a wish fulfillment fantasy told by way of boy's own mashup of genres -- a little uneasy romance here, a spot of arms smuggling there, with rebels and federal agents peeking in from around the edges. Once the kid reporter and the towering literary figure become friends, a mendacious FBI agent (evidently acting on orders from J. Edgar himself) approaches Ed, looking to turn him into a spy. (Hoover seems to have some notion -- whether genuine or cooked up out of personal spite -- that Hemingway is involved with Cuba's rebels.)
More convincing on an emotional level, and more keenly observed, are the tensions that characterize Hemingway's marriage and home life, but the quasi-thriller elements are always there. At a birthday lunch for the great man, Ed uneasily takes note of the presence of some sketchy characters who might well be connected with the rebels; it's the sort of social occasion in which the drinks, like the company, are mixed, and so are the day's emotions, all of them running high. As the booze flows, Mary -- resenting how Hemingway always outshines her with his braggadocio and wild tales -- flies into a wild rage, provoking the nastiest sort of domestic dispute and leaving Ed stunned. ("Now we have the night to look forward to," Hemingway's old friend, the poet and horse racing correspondent Evan Shipman, sighs.)
But the night offers far more than further recriminations between two journalists of outsized ambition and fragile ego. Ed receives a summons to Havana, via telephone, to meet with Mafia chief Santo Trafficante (James Remar), who knows all about Hemingway's troubles with the feds, his dunning by the IRS, and the agent who tried to recruit Ed. That very same evening brings bursts of violence -- volleys of gunfire on a lonely stretch of road, a vicious right hook in Hemingway's own living room -- as well as a too on-the-nose squall of torrential rain.
How much of this actually happened, and to what degree is it exaggerated? There's no reason to doubt Leclerc's story, at least in its broad outlines, but one wonders about some of the side elements -- or, at least, worries about how poorly those elements are blended into the movie's main narrative thrust, which has everything to do with Hemingway's suicidal tendencies, the regrets of age and a life not always well lived, and the downsides of fame. Hemingway is a convincingly paradoxical mass of rages, sorrows, and impulses: One minute he's dragging Ed, with the gusto of an adrenaline junkie, to a firefight at the presidential palace, where the two of them witness rebels being shot down and the wounded then systematically exterminated, one by one, with pitiless shots to the head; the next, he's got Ed in a bar, where he rails against political violence while guzzling shots. In a later scene, as Ed agonizes over whether to commit to Deb, Hemingway bemoans the choices that led to the end of his first marriage.
There are other telling glints of veracity scattered throughout the film. Hemingway's claims about J. Edgar Hoover have a ring of truth about them (they are disgusting claims, but smack of the kind of blackmail the FBI founder and longtime power broker mastered to maintain his influence), and you can even believe that Hemingway, a correspondent in the Spanish Civil War, might have had some sympathies for Cuba's revolutionaries. Smaller, lighter moments litter the film, too, that speak to Hemingway's literary career and days in other countries; speaking of a fellow expatriate American writer, Hemingway scoffs that Paris is beautiful and so is sex, but "Henry Miller made them both sound dirty."
By contrast, Ed seems clueless and shallow, watching in horror and fascination at Hemingway and Mary alternately tear into each other and profess deeply tender sentiments. The overall impression we get -- and so must Ed, we think -- is that these are people circling the drain and paddling eagerly in the direction of the swirl. But it's all flat and slightly unreal. More meaningful than the father-son narrative or the ersatz family at genuine risk of disintegration is Ed's wavering connection to Deb. Will he take the plunge? Early on, Hemingway tells Ed that the only thing that makes human beings worthwhile is "the risks we're willing to take." That pearl of wisdom bobs to the surface again late in the movie. By then, of course, we're left wondering why, if this has been a love story about Ed and Deb all along, we've been served up a bromance between kid and Papa instead.
Bob Yari's direction has a workmanlike, undercooked quality to it; the editing, by Gene Scantlebury, feels a little off in terms of pace and structure, its flaws related to those of the script (for a film about a man who insisted on "the power of less," the movie has a tendency toward the purple and the over-stuffed). There are nice period-specific affectations -- particularly a black and white montage that's done as a call-out to earlier filmmaking styles -- but when you get down to it, the movie has a hollow core puffed by little more than hot air. Mark Isham's score is spry and tropical and light, too, as though the composer had been in on the joke.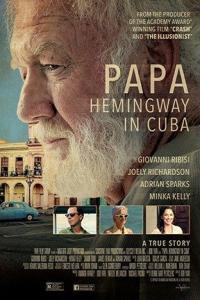 Info
×
Also in Entertainment
Read More »
Kilian Melloy serves as EDGE Media Network's Associate Arts Editor and Staff Contributor. His professional memberships include the National Lesbian & Gay Journalists Association, the Boston Online Film Critics Association, The Gay and Lesbian Entertainment Critics Association, and the Boston Theater Critics Association's Elliot Norton Awards Committee.