The BFG
'The BFG'
When the logo for Amblin Entertainment pops on screen before director Steven Spielberg's latest, "The BFG," countless viewers will be touched with the tenderness of nostalgia. I know I was.
Seeing the moonlit, bicycle-bound silhouettes of Elliot and E.T. from Spielberg's classic fantasy film, "E.T. the Extra-Terrestrial," becomes all the more powerful when considering "The BFG" finds Spielberg collaborating once more with the film's writer, Melissa Mathison -- her final screenplay before passing late last year, and her first in nearly two decades (the most recent being Martin Scorsese's "Kundun" in 1997).
With all the elements in place for a long-awaited live action adaptation of one of Roald Dahl's best works, the film marks a reunion of Spielberg and Mathison, the team behind "E.T." Their new collaboration is an emotionally powerful one -- a classic tale of childhood, fantasy, innocence and adventure. I prepared myself for tears. I expected them, readying myself for the emotional devastation likely in store for me.
And yet, it never came. But I did indeed cry. It was from laughing...
...at a fart gag.
But here's the thing. It's a remarkable, perfectly timed, uproariously executed fart gag, and likely the best one to ever grace the history of cinema. I've been trying to rack my brain for a better one, and the closest I can think of is a sequence from Season Two of Louis CK's FX show, "Louie" (which is arguably more cinematic of an offering than many things hitting theaters these days anyway, but that's an argument for another day).
The moment comes in the film's third act, which finds young Sophie (talented newcomer Ruby Barnhill) and the titular giant (a fantastic Mark Rylance) visiting Queen Victoria (Penelope Wilton) at Buckingham Palace to help thwart a band of nasty giants looking to gobble up children in their sleep. The entire sequence -- 20 minutes or so of hilarious build-up-operates on slapstick, sight gags and screwball sensibilities, all the while embodying the heart and warmth consistent throughout the entirety of story which preceded it.
And then came the farts, and if I laugh harder at a film this year, I'll consider myself blessed.
But enough about "whizzpoppers" (one of "The BFG's" many made-up words). What works best about "The BFG" is that, yes, while its pinnacle moment relies on a juvenile bodily function, it understands the mechanisms of everything else. It grasps the heart and soul, as well as the brain and insights of Dahl's original text, diving flawlessly into themes of darkness and light, friendship and loneliness, compassion and cruelty.
Mathison captures these elements on the thematic level, while Spielberg molds and perfects them visually, crafting what is nowhere near his best film but still something as close to my heart as the director's landmark works. Immensely delightful, sharp and emotionally subtle, "The BFG" is a film that kept a smile on my face for just under two hours -- a feat which continued long after leaving the theater. It fails to capture the same grand scale of emotions that "E.T." achieved, but comparing them is moot after the fact. I couldn't help but draw the juxtaposition entering, yet exiting I simply felt humbled to have both films in my collective memory -- looking forward to the etchings that will continually be made as I revisit "The BFG" for years and decades to come.
The farts are just a bonus.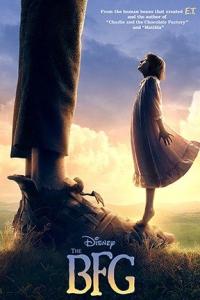 Info
Cast
The BFG :: Mark Rylance
Sophie :: Ruby Barnhill
The Queen :: Penelope Wilton
Fleshlumpeater :: Jemaine Clement
Mary :: Rebecca Hall
Mr. Tibbs :: Rafe Spall
Bloodbottler :: Bill Hader

Crew
Director :: Steven Spielberg
Screenwriter :: Melissa Mathison
Producer :: Steven Spielberg
Producer :: Frank Marshall
Producer :: Sam Mercer
Executive Producer :: Kathleen Kennedy
Executive Producer :: John Madden
Executive Producer :: Kristie Krieger
Executive Producer :: Michael Siegel
Cinematographer :: Janusz Kaminski
Film Editor :: Michael Kahn
Original Music :: John Williams
Production Design :: Rick Carter
Costume Designer :: Joanna Johnston

×
Related Story
Read More »