Jason Bourne
'Jason Bourne' (Source:Universal Pictures)
"Oh, the times, they are a-changin'."
The popular Bob Dylan tune presents an almost-perfect mantra in relation to "Jason Bourne." Nine years have passed since director Paul Greengrass delivered the nominal character's best entry, "The Bourne Ultimatum," and four years have gone by as I've tried to forget Tony Gilroy's godawful spin-off film, "The Bourne Legacy."
So much has happened during these years -- with filmmaking, with government, with the world around us -- and it's reflected wholeheartedly in "Jason Bourne," a hybrid offering that blends past brilliance and present banality. The film is heavy on plot, action and character motivations, yet light on the central intelligence that fueled the first three films so fluidly.
2002's "The Bourne Identity," 2004's "Supremacy" and 2007's "Ultimatum" served up one of the most cohesive action trilogies this side of the 21st century. Together, the three films gelled like a singular machine, escalating with each new installment until the crescendo of "Ultimatum," a masterpiece.
Putting this all into perspective, "Jason Bourne" feels like a footnote, but this foot still has plenty of kick to it and aims directly at the audience's collective ass.
And yet, the near-decade since "Ultimatum" is felt significantly with each moment served up by this newest installment. Repeated buzz words like "cyber," "Internet privacy," "social media" and "Edward Snowden" emphasize a digital age that has undeniably influenced the scripting of the film as well as the characters within it.
A central conflict involves cyber-security conspiracies that surround a revolutionary social media platform called Deep Dream, created by a young tycoon (Riz Ahmed), and a shady CIA executive (Tommy Lee Jones, whose sunken stone face works wonders with this particular role). Considering this subplot compared to the other films, which consisted almost exclusively around Bourne's relentless pursuit for his memory and identity, "Jason Bourne" already is taking on more than it can chew.
This digital age has had a profound impact on action cinema as well. Not all films can be as innovative as last year's "Mad Max: Fury Road," and the majority of action filmmaking has been saturated in recent years by so much of the same old: Superheroes, car chases, shootouts, explosions and things crashing into other things.
More often than not, "Jason Bourne" adheres to cinematic standards that the first three films so creatively rampaged against. Long gone are moments like the enthrallingly-edited Waterloo Station segment early on in "Ultimatum," swapped for a chaotic set piece in Greece where so much is happening on a visual level it's downright exhausting.
There's no arguing against the craft and eye of Greengrass when it comes to action -- he's one of the best contemporary American directors in this department -- but with "Jason Bourne" his eyes seem wider and his appetite seem ravenous, which with these films isn't always the best thing.
"Jason Bourne" is at its greatest during a 30 to 40-minute stretch leading up to the finale, which includes a thrillingly reserved London sequence and the excellent build-up of the climactic set piece in Las Vegas. During these moments so many players are in operation I was reminded of what I've loved most about "Bourne." If this franchise is one giant chess game, the first three films represented early passages of strategy, while "Jason Bourne" has all pieces making moves in the center of the board.
But then Greengrass barrels in, smacks all the pieces off the board and sets it on fire by executing a gratuitous final car chase on the streets of Las Vegas that is arguably the biggest thing that franchise has ever done. It's a fine piece of action filmmaking, no doubt, but it seems ill fit when considering everything that has preceded it over the course of nearly 15 years.
Bigger isn't always better, and this applies to "Bourne" more than other franchises. A series of films with the philosophy of keeping guns close to the hip goes rapid fire in this latest installment, and in this regard, "Jason Bourne" is a disappointment. But it is still leaps and bounds above many action offerings entering theatres these days, and is still a good film and damn fine entertainment.
Greengrass still knows his way around an action scene. Matt Damon's still killing it as the title character, plus we have fresh blood in the form of the aforementioned Ahmed and Jones, as well as Alicia Vikander and Vincent Cassel.
I can't say I was ever bored, but the special sense of attraction that hit me almost constantly during the first three films only came in small magnetic spurts this time around. The times certainly are a-changin'. Now, the identity crisis seems focused less on the main character and more-so the film he resides within.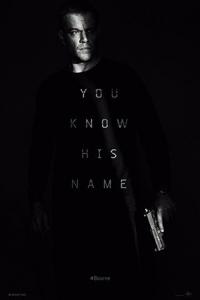 Info
Cast
Jason Bourne :: Matt Damon
CIA Director Robert Dewey :: Tommy Jones
Heather Lee :: Alicia Vikander
Asset :: Vincent Cassel
Nicky Parsons :: Julia Stiles
Aaron Kalloor :: Riz Ahmed
Craig Jeffers :: Ato Essandoh
Director NI Edwin Russell :: Scott Shepherd
Malcolm Smith :: Bill Camp
Christian Dassault :: Vinzenz Kiefer
Bauman :: Stephen Kunken
Greek Van Driver :: Ben Stylianou
Hacker :: Kaya Yuzuki
Richard Webb :: Gregg Henry

Crew
Director :: Paul Greengrass
Screenwriter :: Paul Greengrass
Screenwriter :: Christopher Rouse
Producer :: Frank Marshall
Producer :: Jeffrey M. Weiner
Producer :: Ben Smith
Producer :: Matt Damon
Producer :: Paul Greengrass
Producer :: Gregory Goodman
Executive Producer :: Henry Morrison
Executive Producer :: Christopher Rouse
Executive Producer :: Jennifer Todd
Executive Producer :: Doug Liman
Cinematographer :: Barry Ackroyd
Film Editor :: Christopher Rouse
Original Music :: John Powell
Original Music :: David Buckley
Production Design :: Paul Kirby
Production Design :: Paul Kirby
Art Director :: Paul Inglis
Art Director :: Mark Scruton
Art Director :: Caty Maxey
Art Director :: Amanda Dazely
Art Director :: Joe Howard
Set Decoration :: Peter Walpole
Costume Designer :: Mark Bridges
Casting :: Francine Maisler
Casting :: Dan Hubbard

×
Related Story
Read More »