Suicide Squad
'Suicide Squad' (Source:Warner Bros. Pictures)
Arriving steadfast and headstrong in the hurricane of comic book cinema that has bombarded mainstream movie-going for the better chunk of the 21st century, the most refreshing thing about "Suicide Squad" is that it does not play by the rules. Where other movies adhere to the playbook, this movie rewrites and reroutes the game plan. Occasionally, it plays it safe, but more often than not the film completely jettisons any sense of duty it may feel it owes to the commercial juggernaut of blockbuster entertainment.
The film doesn't owe anything to anyone, especially those fanboys hollering at the screen when Batman or The Flash show up for a cumulative 30 seconds (the latter making up about 2.5 of those). Sure, the film throws in some contractual cameos and obligated pandering, but the majority of its running time is injected with the fuel of screw-it-all abandon.
We've got gonzo characters -- hitman Deadshot (Will Smith); psychotic Hot Topic chick Harley Quinn (Margot Robbie); maniac from down under Boomerang (Jai Courtney); tatted-up fire-conjurer Diablo (Jay Hernandez); the reptilian Killer Croc (Adewale Akinnuoye-Agbaje) and samurai girl Katana (Karen Fukuhara) -- in an even more balls-to-the-wall narrative. As supernatural witch The Enchantress (Cara Delevingne) plagues the city with chaos, our ragtag ensemble of criminal misfits must come together (via secret government program organized by Viola Davis's Waller) to battle against this cataclysmic event.
With cops-turned-oozing-creatures running amuck, an ominous orb building slowly in the city center and a glowing, orange beast-demon tearing buildings out at their foundations, it's safe to say that "Suicide Squad" often suffers from not just sensory overload, but a wide-ranging tonal imbalance of cartoonish qualities, dark cynicism and unabashed vision from writer/director David Ayer. Ayer fills the film with his typical themes related to the mean, machismo-powered machine of mankind -- and at times, the source material feels perfectly in tune to his artistic sensibilities. He also pumps "Suicide Squad" with an overflowing amount of flourish in style, visual effects and flow.
Action scenes range from disorienting to dull to sometimes downright incomprehensible (there's a particular scene where a helicopter is shot down, and I'll be damned if somebody can tell me who the hell was responsible), and the CGI can plummet from visually promising to laughably hokey in a matter of seconds. The cards of theme, performance and writing being dealt range from high aces to low Jokers -- the lowest of the low being Jared Leto's embodiment of the iconic villain, played here with the actor so constantly enamored with himself it becomes infuriating. He flaunts and overacts as if he's God's gift to the green earth of fandom, when really he's the manure lining the surface. The true stars lie in actors like Smith, Robbie, and Davis, who elevate the often-frustrating material to interesting heights.
And that's the saving grace of "Suicide Squad." It is unquestionably interesting and remarkably individualistic for the genre it is taking on. For every moment my eyes were rolling, there were a handful of moments when I couldn't take them off the screen. I left the screening with more to discuss, more to dwell on and more to deliberate internally over than any superhero film in recent memory. Where 2016 films like "Captain America: Civil War" and "Deadpool" had their moments, they were easily digestible, disposable and passed through my mind as if it were a colander. I don't feel the same way about "Suicide Squad." Regardless of the handful of flaws I found, and reservations I still hold strongly, I'm still thinking about it.
Just that fact is a triumph on its own.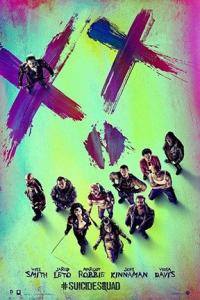 Info
Cast
Deadshot :: Will Smith
The Joker :: Jared Leto
Harley Quinn :: Margot Robbie
Rick Flag :: Joel Kinnaman
Amanda Waller :: Viola Davis
Boomerang :: Jai Courtney
Diablo :: Jay Hernandez
Killer Croc :: Adewale Akinnuoye-Agbaje
Griggs :: Ike Barinholtz
Lieutenant GQ Edwards :: Scott Eastwood
June Moone/Enchantress :: Cara Delevingne
Slipknot :: Adam Beach
Katana :: Karen Fukuhara
Frost :: Jim Parrack
Chairman :: Aidan Devine
Dexter Tolliver :: David Harbour
The Flash :: Ezra Miller

Crew
Director :: David Ayer
Screenwriter :: David Ayer
Producer :: Charles Roven
Producer :: Richard Suckle
Executive Producer :: Zack Snyder
Executive Producer :: Deborah Snyder
Executive Producer :: Colin Wilson
Executive Producer :: Geoff Johns
Executive Producer :: Steven Mnuchin
Cinematographer :: Roman Vasyanov
Film Editor :: John Gilroy
Original Music :: Steven Price
Production Design :: Oliver Scholl
Supervising Art Direction :: Brad Ricker
Supervising Art Direction :: Brandt Gordon
Art Director :: Peter Grundy
Art Director :: Aleks Marinkovich
Art Director :: Colin Woods
Set Decoration :: Shane Vieau
Costume Designer :: Kate Hawley
Casting :: Mary Vernieu
Casting :: Lindsay Graham