Kubo And The Two Strings
"If you must blink, do it now. Pay careful attention to everything you see, no matter how unusual it may seem. If you look away, even for an instant, then our hero will surely perish."
These are the words, spoken as voiceover, that serve as a prologue of sorts for the experience that is "Kubo and the Two Strings." The passage is repeated later on as the title character, a young boy living in ancient Japan, begins to tell a magical story of warriors, gods and monsters.
Standing in the center of his small village, Kubo spins these epic tales through a combination of his words, his shamisen (a traditional Japanese three-stringed lute with a square body) and origami creations that burst to life as Kubo begins to pluck the strings. It's clearly a magical experience for the villagers as they gather in a circle to hang on Kubo's every word, watching the enchanted paper-people play out narrative actions while the strings of the shamisen control them like some melodic puppet master.
But this is only the beginning of an equally charmed experience for the audience.
"Kubo and the Two Strings" is one of the year's best films -- a singular, soulful and sensational work of visual artistry and impeccable storytelling. From adventure to emotion, 'Kubo' covers all the bases in methods that leap far beyond mere satisfaction and into the realm of spellbinding cinema. The film comes to us as the fourth feature from Laika, the studio responsible for stop-motion showstoppers "Coraline," "ParaNorman" and "The Boxtrolls."
While all of these films are worthy of your time, Laika has truly hit its stride with "Kubo." To miss it on the biggest screen possible is a disservice to anyone who considers themselves a dedicated moviegoer. Hating to go into plot specifics that surround a story filled with endless surprises, I'd rather discuss the undeniable creative spirit that shines within the movie's every frame.
"Kubo" is the directorial debut of Travis Knight, who served as Lead Animator on Laika's first three features. While Knight undeniably pours his own heart and soul into the picture, it's impossible with this type of affair to claim or credit sole responsibility.
To a greater extent, the director's vision helps occupy every inch of volume in a larger-than-life spiritual decanter, filled with the passions of everyone involved in the production process. As this spills over on screen -- a tidal wave of influences, dedicated craft and imaginative thirst, and the audience reaps the benefits. Laika is notable for including a time lapse sequence in their closing credits to showcase a specific effort of stop motion animation achieved by the production team. The sequence shown at the end of "Kubo" gave me chills and damn near brought a tear to my eye. Even if you don't like the film for whatever reason, you'd be a fool and flat out wrong to deny the amount of hard work and honest hours put into making it a reality.
This is something special, folks, and I cherish it with all my heart. While easily one of the year's most riveting adventures, the film also strikes all the right emotional chords (pun intended). Love trumping hate, the power of family and community, our place in the universe -- "Kubo and the Two Strings" presents these concepts in unique and interesting ways, creating endless opportunities for parents and children to converse and even become closer long after the film has drawn to a close. The themes here are important meditations on life, and the methods through which these themes are realized are vital to the life and art of visual storytelling.
In many ways, the aforementioned excerpt that begins the film is talking about not just the movie itself, but cinema as a whole, especially in our current climate. It's a beautifully interesting, albeit haunting, theory to think about.
"If you must blink, do it now," says Kubo. For those who behold it, cinematic storytelling is an art of not blinking, paying attention and absorbing everything that's given to us. If we all start to look away, embracing the simple mindlessness of blockbusters and sequels and franchises and brand names over innovative and exclusive offerings like "Kubo," our hero-in this case, the art of the moving image-will surely perish.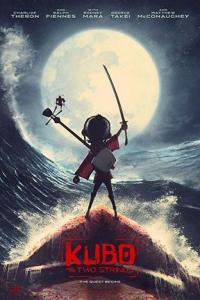 Info
Cast
Voice of Monkey :: Charlize Theron
Voice of Kubo :: Art Parkinson
Voice of Moon King/Raiden :: Ralph Fiennes
Voice of Hosato :: George Takei
Voice of Hashi :: Cary-Hiroyuki Tagawa
Voice of Kameyo :: Brenda Vaccaro
Voice of The Sisters :: Rooney Mara
Voice of Beetle :: Matthew McConaughey

Crew
Director :: Travis Knight
Screenwriter :: Marc Haimes
Screenwriter :: Chris Butler
Producer :: Arianne Sutner
Producer :: Travis Knight
Cinematographer :: Frank Passingham
Film Editor :: Christopher Murrie

×
Related Story
Read More »