Ingrid Goes West
'Ingrid Goes West'
Charlie Chaplin once said, "In the end, everything is a gag." It's a saying that holds a lot of truth, I believe. Everything can be turned into a joke, but this doesn't always mean it should be, and how unorthodox material transitions into humor is a tricky affair.
Then, of course, there's the matter of who will actually find the joke funny. Jokes about taboo topics (rape, murder, genocide, you name it) are touchy. Jokes that take aim at specific demographics (race, sexual orientation, religion) are equally as tough. You aren't going to please everyone. You aren't going to make everybody laugh. You're going to push a few buttons.
But that's where the delicate balance of tone comes in, and when you execute risky humor with deafness and irresponsibility, well ... that's where the problems can arise. "Ingrid Goes West" is one of these cases. Much of my preview audience found the film uproarious, while I sat stone-faced and aghast in what I was watching. The movie, about a grieving, mentally-ill woman who travels to California in order to befriend the Instagram star she's stalking, is intently designed to be a comedy. But in doing so, the film betrays the vulnerabilities of its protagonist and turns her into an absolute laughing stock. There came a point, about two-thirds through, where I wondered whether the screenwriters were assholes, or whether the chortling members of the audience were. After a while, I eventually concluded that the answer was both.
My first sense of dread came during the first few scenes, as we're introduced to Ingrid strictly via her psychological problems. She tearfully scrolls through Instagram, liking every single post of a woman whose wedding she crashes in the next scene. Sarcastically thanking the woman for an invite she never received, Ingrid calls her the C-word and sprays her with pepper spray. At this point, Ingrid's abrupt behavior is so jarring because we haven't really gotten to know her yet.
Then we see her committed to a mental institution. We learn that this newlywed was just somebody Ingrid became obsessed with on social media. We learn that Ingrid's mother recently passed away, and we begin to have a better idea. A few scenes later, the film slam cuts to Ingrid sobbing loudly by herself in the bathroom. The edit itself is meant to elicit humor, and this is definitely achieved. The audience burst out laughing while Ingrid wept on screen. "She's so crazy!" I even heard one girl declare to her friend from the back.
And frankly, that's who this movie seems to be designed for: People who will recommend the film to their friends as some flick about a "crazy stalker chick." The most frustrating part of it all is that "Ingrid Goes West" has a lot of great material to work with -- mental illness, loneliness, alcoholism, narcissism, the desolate vacuum of social media -- but it never quite grasps any of the ideas and themes its aiming to put on the table. What we're left with are one-dimensional supporting characters with other dimensions aching to be released from the tropes enslaving them, and a protagonist who is complex and tragic, yet becomes nothing more than a narrative crash test dummy for the screenwriters to slam into a brick wall again and again, all while an audience jeers at her cyclical pain and suffering.
Hell, even attempted suicide becomes a punchline at one point. She's so crazy, am I right? LOL. #GagMe. Shit emoji.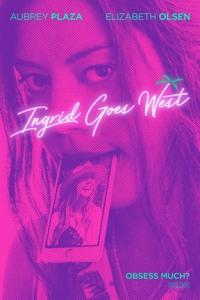 Info
Cast
Ingrid Thorburn :: Aubrey Plaza
Taylor Sloane :: Elizabeth Olsen
Dan Pinto :: O'Shea Jackson
Nicky Sloane :: Billy Magnussen
Harley Chung :: Pom Klementieff
Nicole :: Hannah Utt
Cindy :: Angelica Amor

Crew
Director :: Matt Spicer
Screenwriter :: Matt Spicer
Screenwriter :: David Smith
Producer :: Jared Goldman
Producer :: Tim White
Producer :: Trevor White
Producer :: Adam Mirels
Producer :: Robert Mirels
Producer :: Aubrey Plaza
Executive Producer :: Mary Solomon
Executive Producer :: Allan Mandelbaum
Cinematography :: Bryce Fortner
Film Editing :: Jack Price
Original Music :: Jonathan Sadoff
Original Music :: Nick Thorburn
Production Design :: Susie Mancini
Casting :: Justine Arteta
Casting :: Kim Davis-Wagner

×
Also in Entertainment
Read More »