Top Story
Gloria Vanderbilt, the intrepid heiress, artist and romantic, died Monday at the age of 95.
Cracker Barrel says it won't host an event by a Tennessee church whose pastor was a detective who preached that the government should execute gay people.
If you're a red meat-eater, there's a good chance you're eating more of it than you should.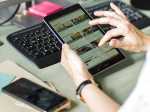 A growing number of services use technology to help reduce food waste.
Netflix's show "Queer Eye" says it's bringing fabulousness to the masses for two more seasons.
A great deal could be written about barbecue, and much of it already has been. But this recent offering from the University of Georgia Press demonstrates there's clearly room for one more.