According to one scholar, the influence black people have had on Muslim fashion goes back at least eight decades.
Nearly three months after sharing his first set of photos for a Calvin Klein campaign, singer Shawn Mendes is again causing Twitter to go wild over his latest revealing photo for the clothing company.
Louis Vuitton's cruise show transported guests back in time as it showcased flashy 1980s-inspired outfits in a decidedly retro venue: the spacey, once-abandoned TWA terminal at JFK Airport.
Cardi B swept by in a stunning red quilted dress accentuated with a matching sequin headpiece, feathers and a train that took up much of the pink carpet, Jared Leto was accompanied by his own (fake) head and Katy Perry came as a candled chandelier at the
After the Met Gala, actor Nico Tortorella, who stars in the comedy "Younger," took to Instagram to show support for LGBTQIA+ people who were "snubbed" from this year's event, which was themed "notes on camp."
Museum authorities at the Auschwitz-Birkenau former Nazi German death camp in Poland have protested to an online vendor that was selling miniskirts, pillows and other items bearing photos of the camp, where around 1.1 million people were killed.
The cocktail bar was shutting down, and guests were being encouraged to commence the elegant trek to dinner through the majestic halls of the Metropolitan Museum of Art.
Louis XIV and Oscar Wilde, meet Bjork and Lady Gaga.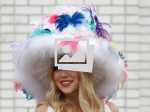 Pouring rain and a controversial call didn't stop Kentucky fashionistas from showing off their fabulous hats. Here are some of our favorites.
Ozwald Boateng, the one-time wunderkind of London's Savile Row, filled the historic Apollo Theater to its rafters in celebration of the 100th anniversary of the Harlem Renaissance as he launched his first womenswear collection.