Big Sean, A$ap Ferg, Halsey and Migos rocked Rihanna's Savage X Fenty crowd Tuesday from a color-saturated stage at the Barclays Center as Normani and Laverne Cox joined an army of supermodels in a showcase of her latest loungewear and lingerie.
Stacey Bendet, creative director of Alice + Olivia, created a dreamscape in color on nine monochrome backdrops as models posed Monday for a presentation at New York Fashion Week.
After a two-year break, Vera Wang returned to the New York Fashion Week runway with a moody and visually arresting show that featured high-couture lingerie elements, hippie hair, and heels so spiky that some models struggled to stay on their feet.
Sporty was the name of Ford's game for spring 2020, in elevated ball caps and leather biker jackets of black and cream.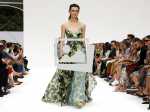 Wes Gordon, now into his second year as the label's creative director, upped his game with a crowd-pleasing, flower-themed collection that was big on color and vibrant prints.
Adorning his runway Sunday at New York Fashion Week with hanging bouquets mixed with flags from around the world, the designer celebrated diversity in size and ethnicity, using plus-size models, nonbinary walkers and those of all colors.
"Sister," Pyer Moss' latest production for New York Fashion Week, was a brilliant, irreverent and joyous celebration of black culture.
Tom Ford enticed the fashion crowd into an abandoned subway station downtown by serving up dumplings before a precarious three-story walk to the rails, and, yes, heels were involved.
LaQuan Smith turned to cowboys and bikers for spring-summer inspiration, bringing a sexy edge to his designs at New York Fashion Week.
Wildflowers were blooming on the banks of the Hudson River on Monday, thanks to the fertile imagination of Wes Gordon at Carolina Herrera.