6 Holiday Gifts for the Home Cook
The holiday clock is ticking, but not to fear. If you're stumped for gift ideas for your favorite culinary-centric loved one, these six items range from the practical to the creative. Pair with selections from our edible gift guide and you'll be sure to impress.

Radical Pan*
You might want to order one for yourself and another for gift-giving. Radical Pan has passed fiver certifications for nonstick cookware and can serve as your go-to skillet for just about anything. The high-lipped edge enables users to toss ingredients like a pro, while its high-heat durability can withstand temperatures up to 500 degrees. The 10-inch version is suitable for most dishes, though it also comes in 8.5- and 12-inch sizes. The pan function on gas, electric and induction cooktops, and when tested, delivered a terrific sear similar to what you'd encounter with cast iron. ($89.99 - $109.99)

Safe- T Design Fire Extinguisher
Safety and style - what a perfect combination for a holiday gifting. Forget the big, bulky and most importantly ugly fire extinguishers that have lived under the kitchen sink for decades. More importantly, could you even access it in the case of an emergency? Safe- T is a gamechanger. With dozens of design-forward looks, Safe- T extinguishers follow the Consumer Product Safety Commission safety guidelines and are CE 0029 certified and manufactured according to strict EN3 standards. Available in dozens of designs from quirky kitchen kitsch to one-of-a-kind designs by top artists like Lisa Lee and Jen Walls, there's a Safe-T design for everyone's kitchen. (From $99)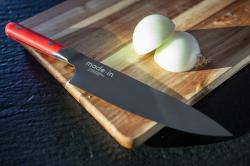 Made In 8-inch Chef Knife
For the foodie on your list that craves precision and elegance, the 8-inch chef's knife by burgeoning online kitchen wares retailer Made In is the sharp choice. With its sleek, modern design, Made In knives look right at home in three Michelin starred restaurants like Alinea and your loved one's humble abode. Made In chef knives have the credentials down. They are fully forged (full tang), hammered from a single rod of X50CrMoV15 metal and nitrogen treated for hardness and durability, Made In blades boast a 58-60 Rockwell score to ensure there will be no chipping or breaking. Crafted from French materials in Theirs, France, by fifth-generation cutlers, this knife will make any real or even slightly imagined chef on your list gasp with joy. ($89)

Diana Henry's "From the Oven to the Table"*
If there is one book to gift yourself or your favorite cook this holiday season, it's James Beard Award-winning author Diana Henry's latest, "From the Oven to the Table." Roasting takes on new meaning as Henry draws inspiration from around the globe for easy-to-make and flavor-packed recipes such as roasted chicken thighs with miso and spring onion, and Indian-spiced vegetables with lime-cilantro butter. ($26.99)



Ellessi Battery-Free Kitchen Scale
Every small effort to preserve the environment counts. Enter Ellessi's battery-free kitchen scale, perfect for chefs and bakers with an eye for precision. The technological wonder works with the power of kinetic energy (not to mention its slick design) with just a few twists of a knob. The scale platform is spacious enough to easily tackle all of your kitchen tasks without being too bulky to store and can weigh up to 11lbs/5kg. ($25.87 through Amazon)

Viking Ceramic Nonstick Bakeware
The wave of the non-stick future is here for all of the baking masters on your list. With a full line of ceramic coated non-stick bakeware, trusted cookware giant Viking has it all from ceramic coated crisper sheet pans, baking pans, tart pans to muffin tins and more. All PFOA- and PTFE-free and made of Exdura Green II ceramic coated heavy gage carbon steel, the products also feature silicone handles for easy gripping. Oven safe up to 480 degrees these pans can easily handle all the cookies, rugelach and pumpkin spiced everything the baker on your list can dream up. (Prices vary, available through retailers such as Amazon, Bed, Bath and Beyond, and Macy's.)


Additional contributions by Matthew Wexler.
April Stamm is a lifestyle and food writer and chef based in Manhattan and Brooklyn, NY.

This story is part of our special report titled "Holidays 2019." Want to read more? Here's the full list.
Comments on Facebook