Top Story
From a neuroscience perspective, our response to daily stress is a function of brain circuits. When you feel overwhelmed, lost, numb, depressed or in a panic, that is usually cause...
Hundreds of Google employees are calling on the company to pledge it won't work with U.S. Customs and Border Protection or Immigration and Customs Enforcement.
A scientist at New York City's American Museum of Natural History is creating a sort of "silk library" that could be the key to designing newer and better materials.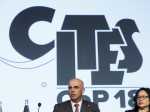 From guitars to traditional medicines and from tusk to tail, mankind's exploitation of the planet's fauna and flora is putting some of them at risk of extinction.
A Washington state trooper who pulled over to help what he thought was a disabled vehicle found something else instead: The driver had eight phones simultaneously playing the video game Pokemon Go.
Spaceport America is no longer just a shiny shell of hope that space tourism would one day launch from this remote spot in the New Mexico desert.