1 thru 15 of 7210 Stories
Nyle DiMarco, the queer winner of "America's Next Top Model" and "Dancing with the Stars," is the latest celeb to use the popular FaceApp — an app that radically transforms selfies — and his pics are going viral.
Pennsylvania's message was clear: The state was taking a big step to keep its elections from being hacked in 2020. But there's a problem: Many of these new systems still run on old software that will soon be outdated and more vulnerable to hackers.
Facebook may be close to putting a Federal Trade Commission investigation behind it. But it faces a variety of other probes in Europe and the U.S., some of which could present it with even bigger headaches.
Alexa will see you now. Britain's health care service is teaming up with Amazon's digital voice assistant to help answer medical queries with advice from the service's official website.
Google contractors regularly listen to and review some recordings of what people say to artificial-intelligence system Google Assistant, via their phone or through smart speakers such as the Google Home.
A Japanese cryptocurrency exchange has reported a hack causing the loss of 3.5 billion yen, or $32 million, worth of virtual money.
A 26-year-old Detroit man has been charged in an attempted robbery and shooting that left one gay man dead and another wounded after they were contacted through a dating app.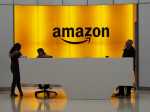 Amazon will provide technical training to about one-third of its U.S. workforce at a cost of more than $700 million.
President Donald Trump used a White House conference Thursday to applaud far-right social media provocateurs even as he conceded that some of them are extreme in their views.
Virgin Galactic's sister company Virgin Orbit conducted a drop test of its air-launched satellite booster over California on Wednesday, a key step toward space missions.
Twitter now prohibits hate speech that targets religious groups by using dehumanizing language, a ban it says may extend to other categories like race and gender.
President Donald Trump is lashing out at social media companies and the press ahead of his White House "Social Media Summit" gathering of mostly conservative groups.
President Trump is on a Twitter tirade ahead of his White House "Social Media Summit" gathering of mostly conservative groups.
Four Maryland teenagers sneaked onto their school's property the night before graduation last year and covered it in racist, homophobic and anti-Semitic graffiti.
Amazon and Microsoft are battling it out over a $10 billion opportunity to build the U.S. military its first "war cloud" computing system. But Amazon's early hopes of a shock-and-awe victory may be slipping away.
1 thru 15 of 7210 Stories