Top Story
New York State has the most resorts officially signed up for January 11 with 11 locations but resorts in 21 other states also have registered.
1 thru 10 of 7013 Stories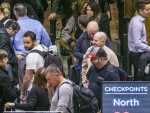 The number of airport security screeners failing to show up for work around the country is soaring as the partial government shutdown goes into its fourth week.
A strike by security staff at eight German airports on Tuesday is causing travel chaos for tens of thousands of travelers.
Air travelers endured waits of more than an hour to get through domestic checkpoints at the world's busiest airport in Atlanta on Monday.
It's been 10 years, but there isn't anything Tripp Harris doesn't remember about the cold January day he cheated death on US Airways flight 1549.
Plovdiv, the oldest city in Bulgaria, has been officially inaugurated as the European Capital of Culture for 2019.
Hawaii tour companies, hotels and airlines are pitching in more than $50,000 to keep the USS Arizona Memorial visitors' center open during the federal government shutdown.
Police in Iceland have a warning for visitors: Beware our roads in the winter.
The partial government shutdown is starting to strain the national aviation system, with unpaid security screeners staying home, air-traffic controllers suing the government and safety inspectors off the job.
Royal Caribbean's Oasis of the Seas is returning to a Florida port a day early and giving passengers full refunds of their fare after 277 guests and crew members were hit with an outbreak of Norovirus as it sailed to Jamaica.
It's a museum that invites visitors to come! Sit! And stay. The American Kennel Club Museum of the Dog opens Feb. 8 in midtown Manhattan, returning to New York after three decades on the outskirts of St. Louis.
1 thru 10 of 7013 Stories