Hilton Celebrates WorldPride at Properties Across NYC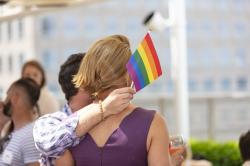 This June, Hilton is rolling out the rainbow carpet for global travelers and locals alike to commemorate New York City's most anticipated summer event — WorldPride and the 50th anniversary of the Stonewall Uprising — with an array of Hilton NYC Pride experiences and special offers.

Pride Cocktails
In celebration of NYC's WorldPride 2019, Hilton has curated a selection of Pride-inspired cocktails throughout nine Hilton hotels across the city. Visitors can sip their way across New York City by following a cocktail guide which features select discounts along the way. With different Pride cocktails at each location and five rooftop bars, there is no better time to celebrate Pride. Highlights include:

Loopy Doopy Rooftop Bar at Conrad New York Downtown
Alto Rooftop at The Bernic Hotel New York City
Rare View Rooftop Bar at Hilton New York Fashion District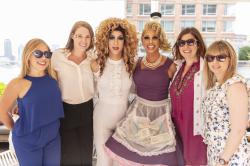 Glamour Stations on Parade Day
Add a bit of glitz on Pride Parade Day with Hilton's onsite complimentary glitter glamour stations. Located in the lobby of select hotels, from 9 am to 12 pm on June 30, guests and locals can stop by to have glitter makeup and applique added to their WorldPride look prior to the Parade courtesy of local makeup artists. Participating hotels include:

Hilton Garden Inn New York/Tribeca
Hilton New York Fashion District
Millennium Hilton New York Downtown
New York Hilton Midtown

Hilton recently received a perfect score on the Human Rights Campaign Corporate Equality Index for the sixth consecutive year. In the past year, Hilton was named #1 Workplace for Diversity, #1 Workplace for Parents and included on Forbes and Just Capitals America's Most JUST Companies list.

Various properties have hosted LGBTQ-centric events, including HRC's Time to Thrive Conference and the Matthew Sheppard Foundation Bear to Make a Difference Gala. In April 2019, the International Gay & Lesbian Travel Association (IGLTA) hosted its Global Convention at the Hilton New York Midtown.

This story is part of our special report titled "Spring 2019." Want to read more? Here's the full list.
Comments on Facebook