Gay News: The Latest
Paris authorities opened an investigation Sunday into anti-Semitic remarks hurled at a noted philosopher during a yellow vest protest in the capital, an incident that raised national concerns about the movement's ascendant radical fringe.
Heather Nauert, picked by President Donald Trump to be the next U.S. ambassador to the United Nations but never officially nominated, has withdrawn from consideration, the State Department said.
The man who opened fire and killed five co-workers took a gun he wasn't supposed to have to a job he was about to lose.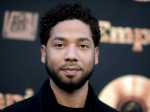 Chicago police said Saturday the investigation into the assault reported by Jussie Smollett has "shifted" due to information received from two brothers questioned in the case.
Roscoe's Tavern hosted a RuPaul's Drag Race All Stars 4 finale party with Shangela, Valentina and Adore Delano.
President Donald Trump describes drugs flowing across the hinterlands from Mexico, a federal prison population laden with criminals who are in the U.S. illegally and a Texas city transformed by a border barrier into a safe place to live. It's misleading.
The voice of the female filmmaker was louder than ever at this year's Berlin Film Festival, with seven out of the 16 films in the competition section helmed by women, and female directors from all corners of the globe featured prominently.
The Academy of Motion Picture Arts and Sciences on Friday reversed its decision to present four awards during the commercial breaks of this year's Oscar broadcast.
Memory and thinking skills naturally slow with age but now scientists are peeking inside living brains to tell if depression might worsen that decline — and finding some worrisome clues.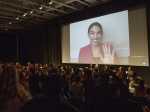 None of these is legit, even though they were shared widely on social media. The Associated Press checked these out. Here are the real facts.
Several Democratic presidential candidates are spending the long holiday weekend on the campaign trail, while a Republican has announced he's creating an exploratory committee for a possible 2020 run.
Anne Hathaway - recipient of the Human Rights Campaign's "National Ally for Equality" award - co-stars with Rebel Woilsonin the MGM movie "The Hustle." Check out the new trailer!
What they didn't expect was the protests, the hostile public hearings and the disparaging tweets that would come in the next three months, eventually leading to Amazon's dramatic Valentine's Day breakup with New York.
An internal team at the Census Bureau found that basic personal information collected from more than 100 million Americans during the 2010 head count could be reconstructed from encrypted data, but with lots of mistakes.
A personal account of how medical bills can amplify the struggle families face during a critical illness.
Here are some of the most common car-shopping mistakes people make when buying or leasing a car. Avoid them and you'll have a better car-buying experience.
Fashion feels good: there were some moments of genuine, happy emotion at New York Fashion Week. Here are a few feel-good moments of the week:
Phone batteries dying, sticking to plans, and slow WiFi — these are just some of the modern causes of stress plaguing Americans today, according to new research.
A few days in Milwaukee reveal a round-up of lively LGBTQ-friendly bars, local eats, culture, and most of the time... snow.
For Valentine's Day, Susanne Bartsch produced Kabaret Boom, held at Top of The Standard in New York. Guests included DJ Aquaria, Dirty Martini, and a special appearance from pop star Kim Petras.