Gay News: The Latest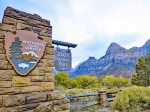 The red rock vistas at Zion National Park were closed to the public Friday as the Utah site became the latest national park to lock its gates to prevent the spread of the coronavirus.
A California directive that could open the way for some patients sickened with COVID-19 to be sent from overburdened hospitals to nursing homes is being criticized by industry officials.
The United States' top infectious disease specialist is getting his own bobblehead.
The National Orchestra of France has posted a stirring video of Ravel's "Bolero" performed with each member in lockdown.
Instead of cleaning out the basement as planned two weeks ago in our self-isolating home, I returned upstairs carrying a box of Strat-O-Matic cards and drew up a March Madness baseball tournament with the best teams of all time.
Hungary's prime minister struck back at his critics in the European Union, saying he has "no time" for dealing with some of them during the coronavirus pandemic and accusing others of wanting to "loot" the country.
A hacker posted a racial slur hundreds of times in an online fan video chat Friday with a black New York Rangers prospect.
None of these are legit, even though they were shared widely on social media. The Associated Press checked them out. Here are the facts.
Democrat Amy McGrath has punched back at Senate Majority Leader Mitch McConnell, accusing him of seeking a political windfall from an economic aid package while the coronavirus crisis worsens.
The Walt Disney Co. on Friday overhauled its release schedule by moving the dates of half a dozen Marvel movies.
Buddhist leaders argue that their teachings can help confront the uncertainty, fear and anxiety that has accompanied the spread of COVID-19.
What better time than now to revisit the fascinating 2016 documentary "The Lost City of Cecil B. DeMille," which examines a little-known aspect of the great filmmaker's ambitious work?
More than a million people could swamp the Affordable Care Act's health insurance marketplaces in the coming months as employers lay off staff during the coronavirus pandemic.
Want to see Chance the Rapper prank Hollywood stars? Catch a new action thriller starring Liam Hemsworth and Christoph Waltz? How about a six-minute edition of "60 Minutes?" There's an app for that!
Travel to Provincetown during the COVID-19 crisis became an issue this past week when Select Board member Lise King "posted a Facebook message on Thursday that she found painful to write.
Since vehicle interiors are essentially small contained spaces, it is important to take steps to reduce the risk of contracting the virus while driving or riding inside.
You've got it stocked in your home bar, but what exactly is Cointreau? The orange-flavored liqueur dates back to 1885, but most of us aren't sure what to do with it besides using it as a component in a margarita. Until now.
With coronavirus deaths surging in New York, the governor announced Friday he will use his authority to seize ventilators and protective gear from private hospitals and companies that aren't using them.
Saying they don't know when they'll be able to re-open many of their businesses with the coronavirus spreading, Walt Disney Co. officials announced they will start furloughing some workers in two weeks at its theme parks resorts in Florida and California.
The annual "One Magical Weekend" event that brings LGTBQ revelers to Orlando from around the world has been canceled for 2020, organizers of the event said in a release.