Gay News: The Latest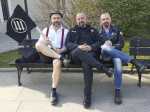 Poland thought it had started confronting the problem of clerical abuse and its cover-up by church authorities. Then a bombshell came: A documentary with victim testimony so harrowing it has forced an unprecedented reckoning with pedophile priests.
Feeling "lost" after Donald Trump won the U.S. presidential election, Sara Bareilles found herself in a meditation class to help deal with the new American reality.
The Starz drama "Vida" returns for its second season on Sunday with an even deeper exploration of an issue facing many U.S. Latino communities: gentrification.
Under the threat of potentially devastating U.S. tariffs on autos, Japan is ready to roll out the newest phase of its charm offensive targeting President Donald Trump as it welcomes him on a state visit tailor-made to his whims and ego.
Authorities said Friday they raided hundreds of black market marijuana operations in Colorado that flouted the state's cannabis law by growing tens of thousands of plants in Denver-area homes and selling the drugs out of state.
A federal judge on Friday temporarily blocked a Mississippi law that would ban most abortions once a fetal heartbeat is detected, at about six weeks of pregnancy.
A House GOP conservative blocked a long-overdue $19 billion disaster aid bill Friday, complaining it leaves out money needed to address the migrant crisis at the border and extending a tempest over hurricane and flood relief.
The Trump administration moved Friday to revoke newly won health care discrimination protections for transgender people, the latest in a series of actions that aim to reverse gains by LGBTQ Americans.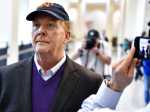 Celebrity chef Mario Batali, whose career crumbled amid several sexual misconduct accusations, pleaded not guilty Friday to a charge that he forcibly kissed and groped a woman at a Boston restaurant in 2017.
Adam Levine is leaving NBC's "The Voice" after 16 seasons.
Hulu is announcing a new animated series called "The Bravest Knight," which features a young girl and her same-sex parents.
Whether or not Quentin Tarantino wins the Palme d'Or this year, at least he's not coming home without a trophy.

Stepping up Beijing's propaganda offensive in the tariffs standoff with Washington, Chinese state media on Friday accused the U.S. of seeking to "colonize global business" with moves against Huawei and other Chinese technology companies.

The dating app is getting an overhaul thanks to Taimi App, which aims to reimagine how members of the LGBTQ connect to one another.
You won't pay for health care in retirement with one lump sum. That's the way these expenses are often presented, though, and the amounts are terrifying.
The world's largest carmaker is creating its first all-electric plant and phasing out production of the internal combustion-engine cars built by generations of local workers.
Lada Gaga's multiple fashion reveals were a big moment at the Met Gala, and a sweet one for her friend Brandon Maxwell.
The year is not half over, and the number of measles cases has now exceeded highs not seen since the U.S. was declared measles-free in 2000.
Overwhelmed by all of the offerings for NYC Pride, WorldPride and Stonewall50? We've got you covered with the ultimate list of what not to miss.
The annual GLSEN Respect Awards were held at Cipriani 42nd Street to honor the work of student leaders, educators, community organizers, influencers, and corporations who serve as exemplary role models and have made an impact on LGBTQ youth.