Gay News: The Latest
Now numbering more than 60, fellowship programs offer physicians a year or two of postgraduate training in clinics and hospitals where they learn evidence-based approaches for treating addiction.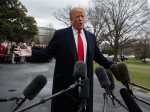 Special counsel Robert Mueller closed his long and contentious Russia investigation with no new charges, ending the probe that has cast a dark shadow over Donald Trump's presidency.
Within minutes of receiving notification that special counsel Robert Mueller had turned over his report on the Russia investigation, congressional Democrats were calling for the report to be fully released, including the underlying evidence.
Adult film star Stormy Daniels briefly appeared at the Illinois Capitol on Friday to protest the state's tax on strip clubs.
For Sean Hannity, the "witch hunt" was finally over. Rachel Maddow considered it the start of something.
Ryan Murphy's first Netflix show "The Politician" gets a release date and synopsis.
Special counsel Robert Mueller on Friday turned over his long-awaited final report on the contentious Russia investigation that has cast a dark shadow over Donald Trump's presidency.
Faith-based adoption agencies that are paid by the state of Michigan will no longer be able to turn away LGBT couples or individuals because of religious objection under a legal settlement announced Friday.
ABC is giving "The Conners" another go.
In their early days, the Beatles were called Johnny and the Moondogs and Coldplay went by Pectoralz. The rock band Wallows is no different.
Barack Obama is feeling the love about the engagement of Jennifer Lopez and Alex Rodriguez.
Hollywood's newest heartthrob Noah Centineo may have found his next role, playing the live-action version of He-Man.

Levi Strauss & Co. is going back to the public markets after 34 years. Here are milestones of this iconic brand whose roots date back to 1853 when its founder Levi Strauss opened his first dry good business.
Ivanka Trump, the president's daughter and a powerful White House aide, did not preserve all of her official emails as required by federal law, and her husband, Jared Kushner, used a messaging application to conduct U.S. business.
The U.S. government claimed that ditching paper medical charts for electronic records would make health care better, safer and cheaper. Ten years and $36 billion later, the digital revolution has gone awry.
Ford Motor Co. is repackaging a previously announced $900 million manufacturing investment in the Detroit area, boosting the number of jobs added from 850 to 900.
In 2015, spurred in part by the enthusiastic response their potluck dishes and birthday treats garnered from friends when they socialized, Ryan Alvarez and Adam Merrin started a recipe blog, Husbands That Cook. That's now also the title of their book.
"Game of Thrones" actress Emilia Clarke revealed Thursday that she has had two life-threatening aneurysms, and two brain surgeries, since the show began.
A Southern California city overwhelmed by throngs of visitors seeking out a rare wildflower bloom says it has a parking plan.
Truly Fabu won Miss Gay New York America and Pattaya Hart won first alternate. They are both now qualified to compete this coming October for the title of Miss Gay America 2020.